We sell three levels of kits.
These kits are meant to convert Beckett AF and AFG model burners. You may be able to convert other burners but it may require welding and fabrication. Burners with a 4" O.D. blast tubes are the easiest to convert. Kit #1 is the basic kit and you will have to source the rest of the parts. Kit #2 is more complete but you will still need the air side parts and a box for the controller. Kit #3 is everything you need on the burner itself.
A few words about the new smaller heater block design.
I've had alot of questions about why i went to a smaller block. Basically i went to a smaller package so it can fit into other burners as well as shorter blast tubes. The outlets temps measured with a thermocouple and meter are easily 10 degrees hotter than the old block. The milled passages take longer to machine but result in a smaller block with better heating. Notice i said "takes longer to make" but the price hasn't gone up. The electrodes are mounted using the original Beckett mount that also serves to center the block in the blast tube. Lately I've encountered some oil (synthetic) that likes a little more heat to ignite. (200*F block temp). I've also noticed that some burners even the same model can have wildly different secondary air from the squirrel cage. Given that the block is smaller and there is less restriction in the blast tube, air control is VERY important. Possibly even to the point of needing a static plate. This is a plate that mounts on the electrode holder and blocks some of the air going down the tube. Many Beckett burners even come with this plate.

You can purchase directly from this website by clicking on the add to cart button. If you wish to send a check or money order send payment to:

Craig Kepner
824 William ave
Westminster, MD 21157

1. Preheater block, nozzle, cartridge heater $150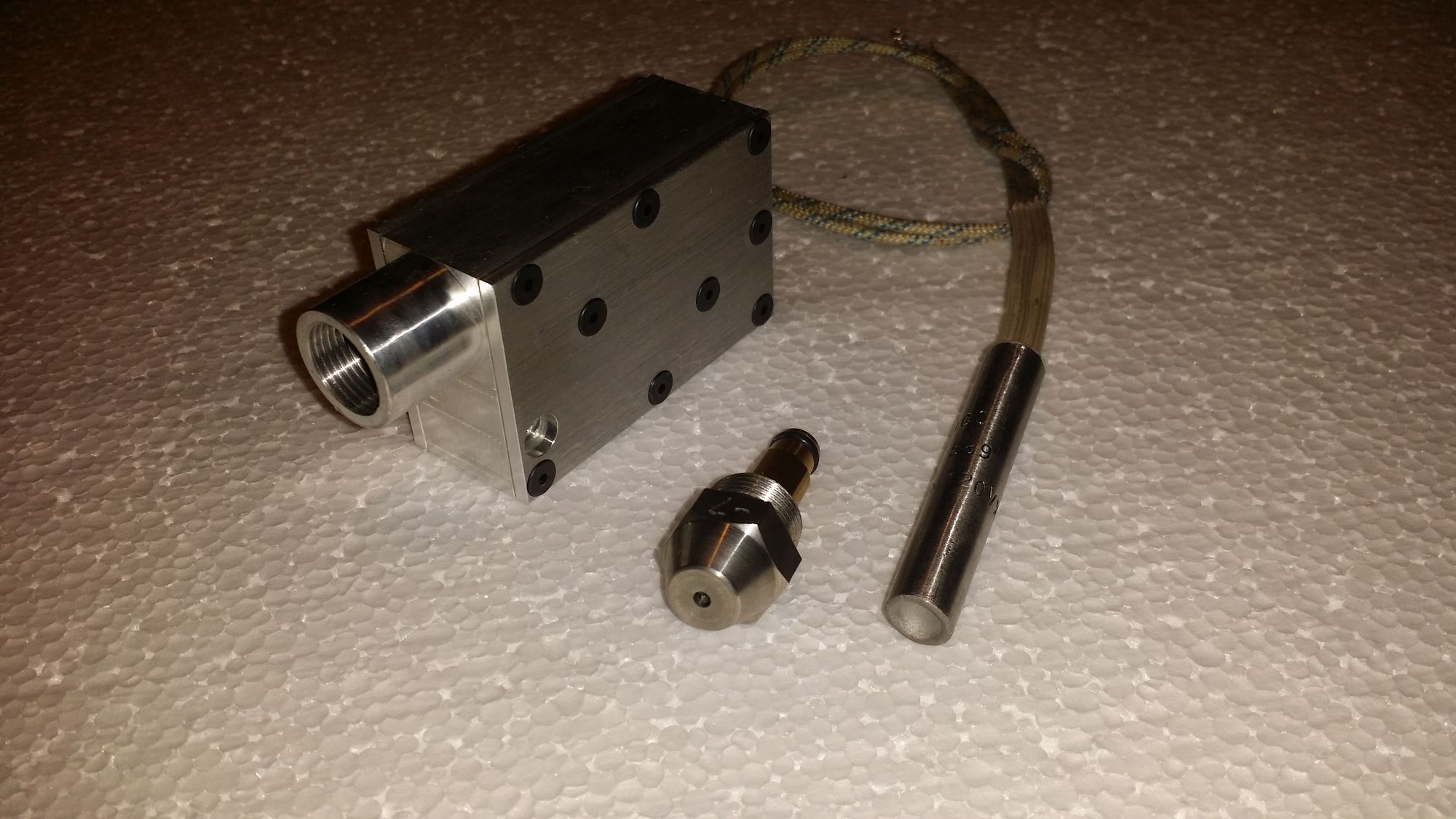 2. Preheater block, nozzle, cartridge heater, digital controller, relay, thermocouple, retention head. $300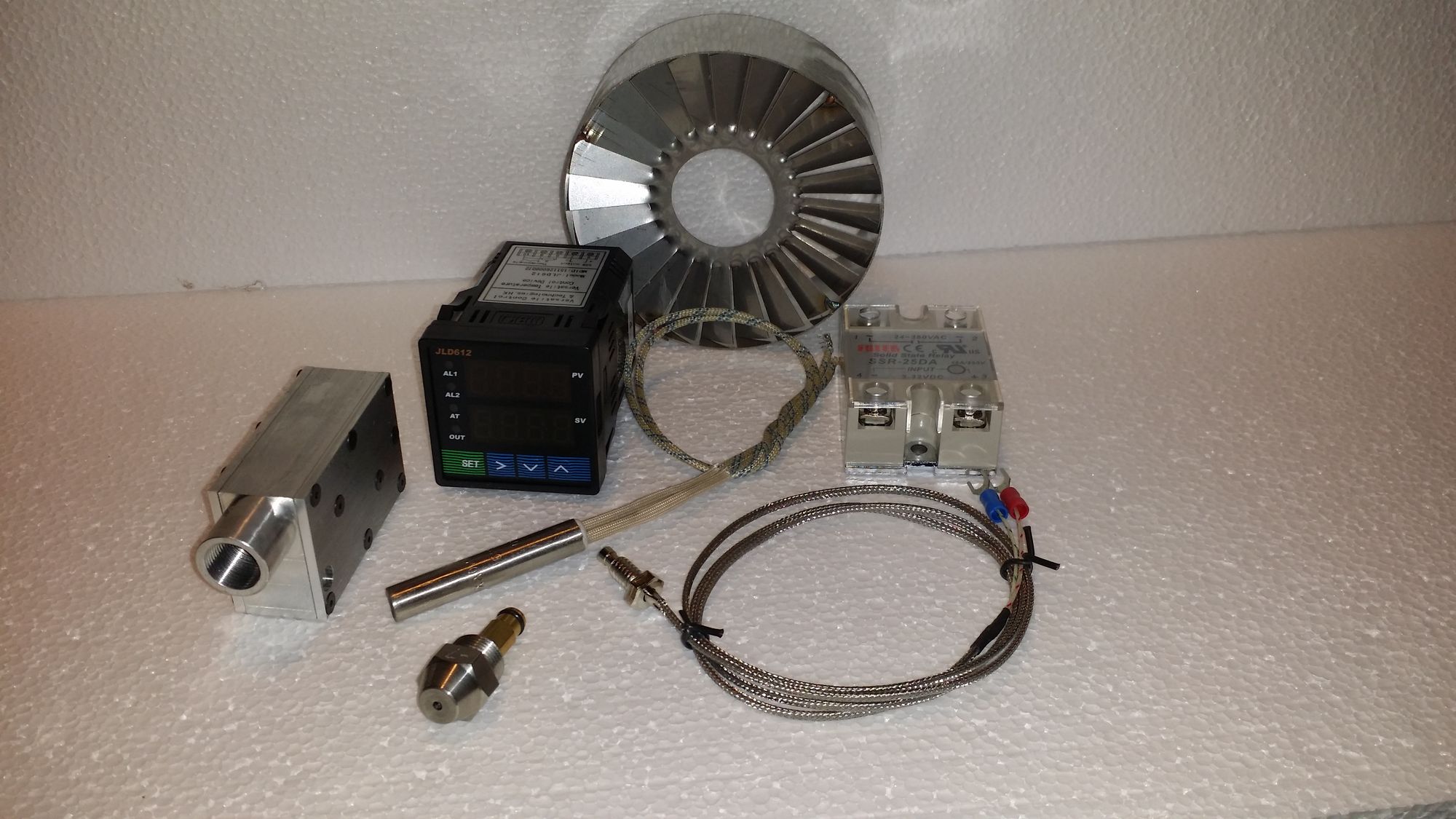 3. Preheater block, nozzle, cartridge heater, digital controller, relay (pre-tapped), thermocouple, retention head, blast tube, adjustable mounting flange, air solenoid, air regulator, pressure gauge, electrical box with cutout for digital controller, Pre-notched electrode holder, fittings and wires. Everything you need for the burner itself, you will still need a float tank $600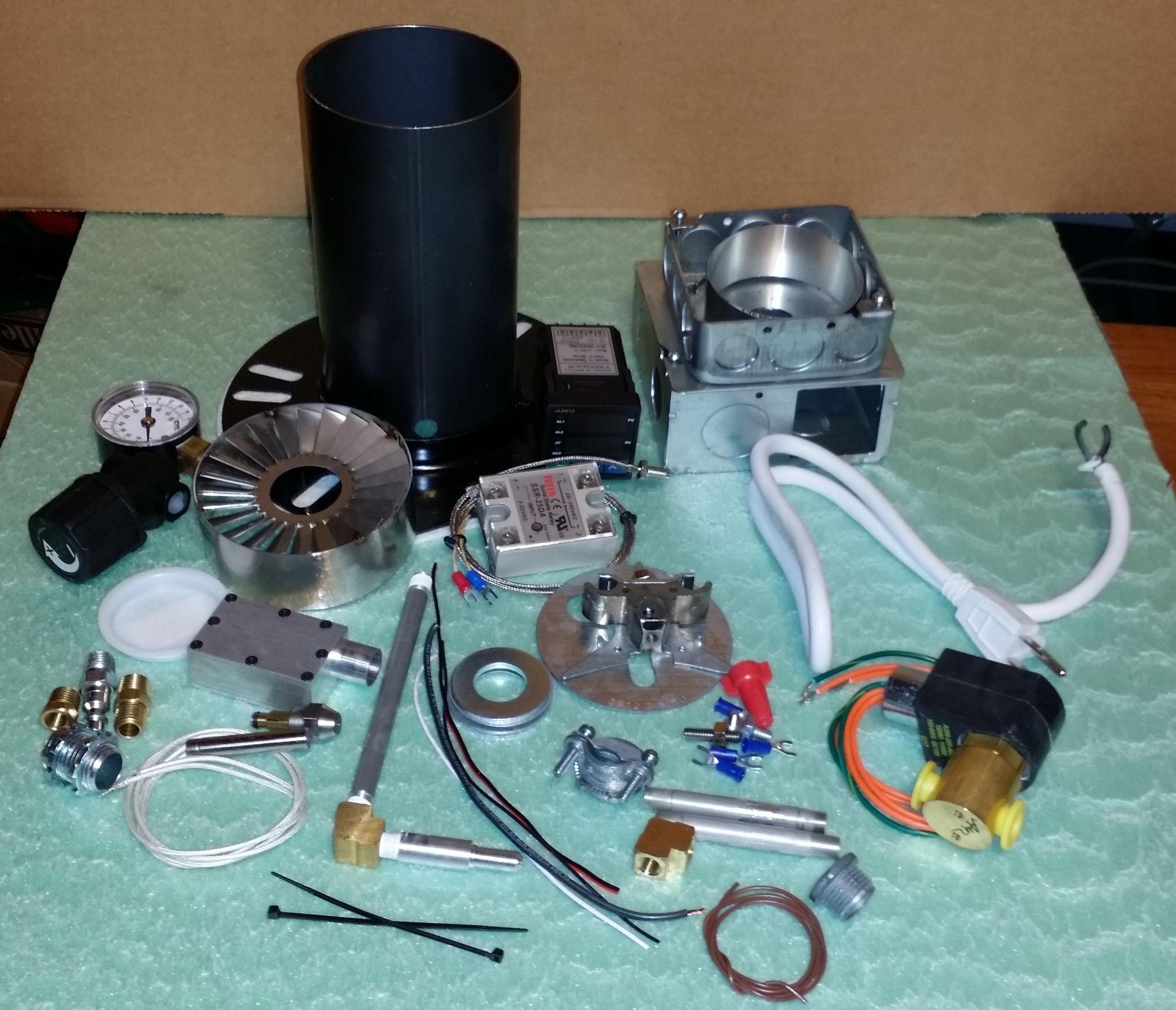 Float tank $190
Complete with inlet strainer and ball valve outlet.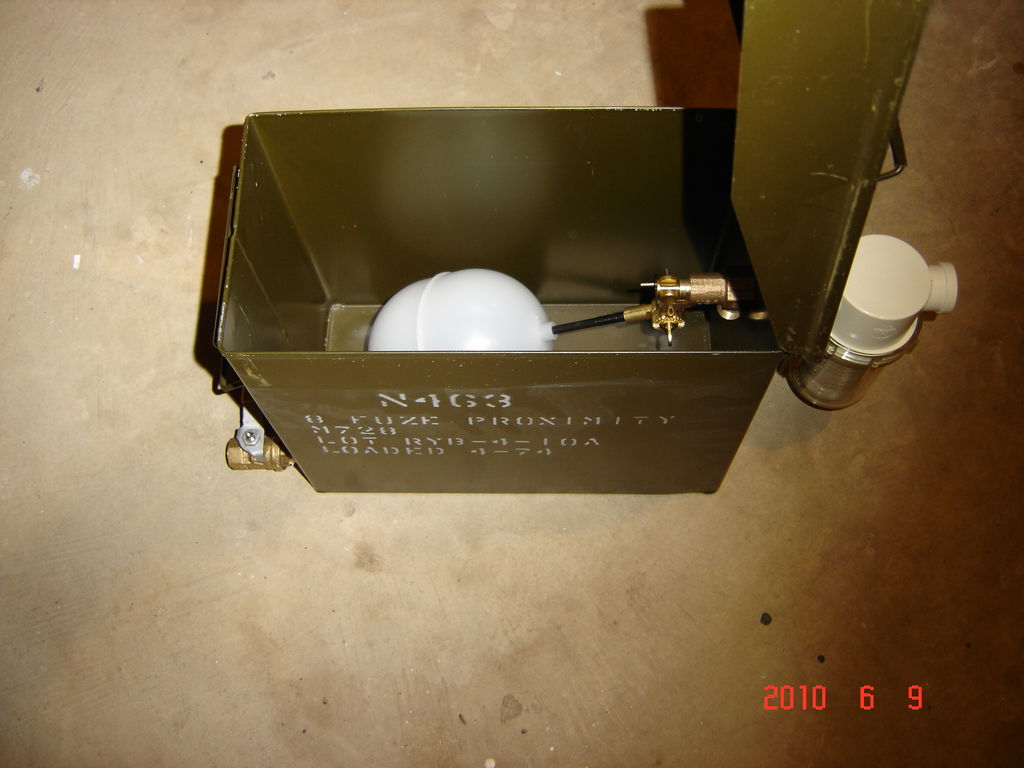 Spare Parts

Siphon nozzles (.5,.65,.75,.85,1.00) $22

Big Boy Siphon nozzles (1.5gph, 2.0gph, 2.5gph) $25
(these require significantly more air, up to 30psi, and are very sensitive to cold oil and lift height, they work best with two stages of air, you cannot use onboard air compressor with these nozzles)

Cartridge heaters $30 (Please specify 4" for old preheater blocks or 2" for new preheater blocks)

Digital temp. controller with relay and thermocouple $90 (tested, and programmed, no warranty) do not use below 32 degrees F

Retention head $50

Air solenoid $100

Air pressure regulator $25

0-15psi Gauge $20

Electrical box with lid and cutout for Digital controllers $35

Blast tube with adjustable flange $40
Complete Burners
Convert your burner $800 plus return shipping
Send me your Beckett Af or AFG burner and i will convert it. Any broken, damaged, missing or non functioning parts will be extra. (ie. motor, transformer, safety) If your burner is overly dirty, there will be a $100 cleaning charge. (you can avoid this by disassembling your burner and cleaning all components before shipping it to us.) You will need a float tank to go with your burner.


Complete burner (used parts)$1000 plus shipping
I purchase used Beckett burners, clean, convert and test fire them. I do not always have them available so email me. You will need a float tank to go with your burner.



Complete burner (new parts)$1300 plus shipping
I purchase new Beckett burners, convert and test fire them. . You will need a float tank to go with your burner.